23/09/2018: Concert news!
Skambankt are on tour in Denmark at the moment, and here are my reports from
Aarhus
and
Odense
!
Also, Skambankt have just announced two new concerts: an additional concert in Stavanger on November 16, this time at Checkpoint Charlie (the concert at Folken the next day is sold out by now), and their (almost) annual Christmas concert in Bryne! Dates and links are available in the
LIVE
section.
29/08/2018: Velkommen til konsert!
It's out! "Skambankt - Rockefeller 09.03.2018" was released last week, and while there doesn't seem to be much press around it, social media has a lot of praise. And rightfully so!
So sit back and enjoy a (short) concert in your living room - to prepare for the tour in fall, of course! Skambankt have now confirmed most of the
tour dates
, and in addition, they have already been announced for next year's Raumarock festival. Yay!
And for something completely different, Skambankt will participate at Kapittel in Stavanger and talk to Leif Tore Lindø about solidarity and concord in a band. This will happen on September 19, see more information
here
.
15/08/2018: Live live live!
Only 10 days until Skambankt's first ever live album is released - have you preordered already? If not, it's about time!
And it looks like we'll get another tour in October, so we can get the live experience not only on the stereo, but also in person! The first dates are getting out now, but there will surely be a few more - check out the ones that are already announced
here
. And get your tickets! The show in Porsgrunn is actually sold out already!
29/06/2018: Raise your fingers ...
... and praise the first-ever Skambankt live album! Yes, there will finally be a live album, with the title "Skambankt - Rockefeller 09.03.2018". As you might be able to guess, it was recorded during the concert at Rockefeller in Oslo in March. =:-)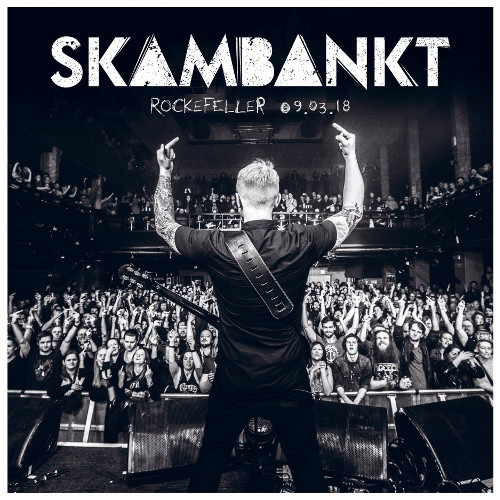 The album won't contain the full concert (you can check the full setlist in the
concert report
), but the following nine songs:
I dette huset
Voodoo
Slukk meg (for eg brenner)
Horisonten brenner
O dessverre
Vår bør
Levende legende
Balladen om deg
Stormkast #1
The release date is August 24, but you can already preorder CD and LP from
Indie Recordings
(keep in mind though that they ship from Spain and you might have to pay toll - so you might want to wait for the album to be available from Platekompaniet), and of course the album will be available digitally as well. The first single "O dessverre" is already out - listen to it
here
!
24/06/2018: ... and at the end, the Germans win!
Another fun festival show at Steinkjerfestivalen yesterday! If you like soccer, read my report
here
. =;-)
The festival tour continues with more shows all over Norway, from Kristiansand in the south to Vadsø in the north - check out all dates
here
!