29/06/2018: Raise your fingers ...
... and praise the first-ever Skambankt live album! Yes, there will finally be a live album, with the title "Skambankt - Rockefeller 09.03.2018". As you might be able to guess, it was recorded during the concert at Rockefeller in Oslo in March. =:-)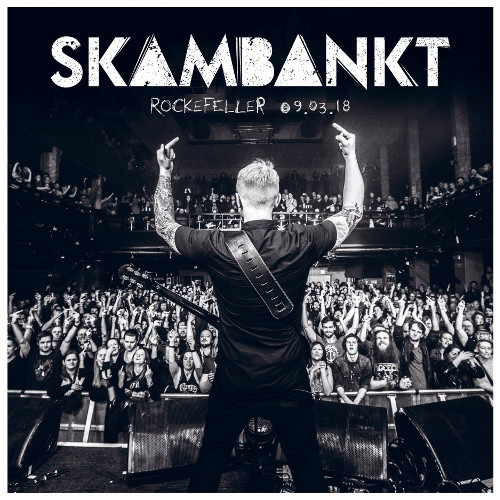 The album won't contain the full concert (you can check the full setlist in the
concert report
), but the following nine songs:
I dette huset
Voodoo
Slukk meg (for eg brenner)
Horisonten brenner
O dessverre
Vår bør
Levende legende
Balladen om deg
Stormkast #1
The release date is August 24, but you can already preorder CD and LP from
Indie Recordings
(keep in mind though that they ship from Spain and you might have to pay toll - so you might want to wait for the album to be available from Platekompaniet), and of course the album will be available digitally as well. The first single "O dessverre" is already out - listen to it
here
!
24/06/2018: ... and at the end, the Germans win!
Another fun festival show at Steinkjerfestivalen yesterday! If you like soccer, read my report
here
. =;-)
The festival tour continues with more shows all over Norway, from Kristiansand in the south to Vadsø in the north - check out all dates
here
!
03/06/2018: And so it begins ...
Festival season has started! Skambankt already played in Bryne and Florø - and yesterday they were in Trondheim. Check out my
report
and a few
pictures
!
30/05/2018: In the house!
And suddenly, there's a new single from the album! =:-) It's the first track, "I dette huset", so we'll get to hear this one on the radio soon. Most likely, it's only gonna be a radio single and not released in physical form, but we all own it on the album already, right? The video for the single is already out - watch it here!


25/05/2018: Summer is coming!
Summer, sun - and festivals! It's that time of the year again, and Skambankt will start the festival season at home this year with a concert at Jærnåttå in Bryne. All in all, there are 13 festivals on the list (at the moment - who knows, maybe there will be even more?), so you don't have any excuse to not see them this summer!
Check out the full list
here
, and if you scroll down a little, you'll find the concert map that will help you plan your festival summer. =:-)