09/02/2018: It's out!
The big day is finally here, and "Horisonten brenner" is out!
Here's a bunch of links (that list will probably grow) of album reviews and interviews that are not behind a paywall. (Not saying that a paywall is bad in any way, it isn't - it's just highly inconvenient if you don't want to read about every topic in one newspaper but about one topic in every newspaper ... ;-) )
Record reviews:Interviews & articles:
08/02/2018: New record! New website!
Yay - the wait is over! "Horisonten brenner" will be out tomorrow, and according to all interviews and the very first reviews, we really got something to look forward to! =:-)
Skambankt will be busy tomorrow and on Saturday, doing signings and small concerts at Platekompaniet in Sandnes and Stavanger. Only there you can also get a special limited version of the album in orange vinyl! But if you don't live anywhere close, no need to despair - you might not be able to get the orange version, but the yellow LP looks way cooler anyway. =;-) And you can order it from all the common places, plus
indierecordings.no
, which ships to pretty much everywhere with acceptable postage. Not for online sale, but only available locally, is Skambankt's new beer
Gribben
- also launched in time for the new album.
Of course, a new album means a new design for the website! And for some reason, a new design always leads to a complete rewrite, and so everything is different here. =;-) I hope you like it! I cleaned up the information in such a way that everything that is old content and unlikely to be updated regularly has moved to the vault, while the rest of the stuff is (hopefully) always up-to-date. Also, the website is now fully responsive and should work fine on all those devices that you kids use for surfing nowadays. =;-) So check out the new site! I'm always glad about feedback, positive or negative - drop me a mail or use the
contact form
, or get in touch via
Facebook
or
Twitter
!
If you're looking for the lyrics or translations of the album, I'll have to disappoint you for now though ... I didn't get them beforehand and I'm not sure when I can get the album, so typing out the lyrics, let alone translating them, will definitely take some days ... sorry!
24/01/2018: Fire on the horizon!
As a last (?) teaser before the release of the album, Skambankt now released another single, namely the title track "Horisonten brenner". And as for the other singles, they made a video for it! So check it out:
15/01/2018: Release time!
The release of "Horisonten brenner" is scheduled for February 9 - and you can already preorder your copy of the album (CD and black or yellow vinyl) at
Indie Recordings
! Here's the cover and the tracklist of the album: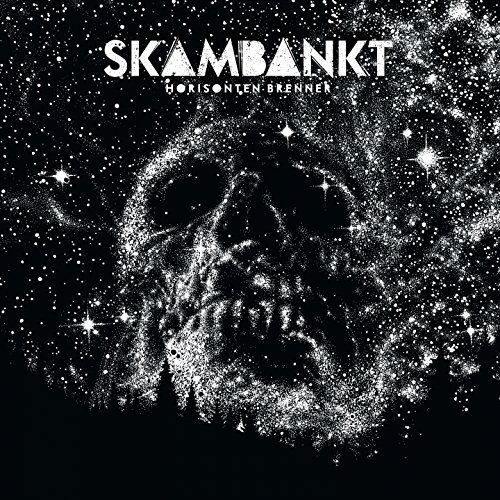 I dette huset (In this house)
Når imperiet faller (When the empire falls)
Protest dommer (Objection your honor)
Fremmed i en fremmed verden (Stranger in a strange world)
Horisonten brenner (The horizon is burning)
Kommer snart hjem (I'll soon be home)
Levende legende (Living legend)
Stein for stein (Step by step)
Gribben (The vulture)
Want a sneak preview? Here you go!